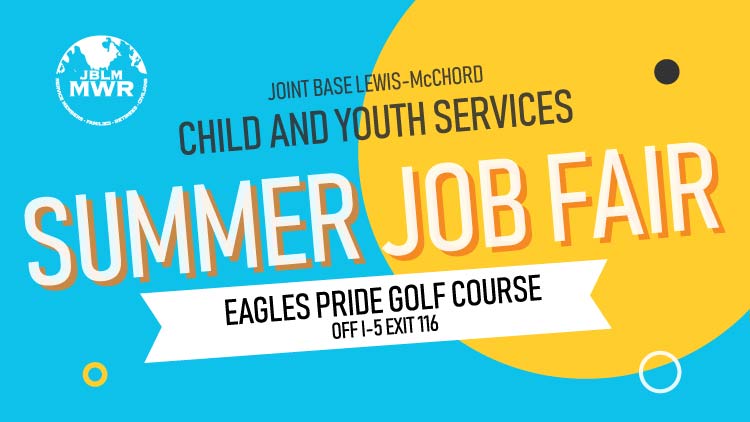 Note: This event has already passed.
Date: Feb 26 2019, 8 a.m. - 3 p.m.
Looking for a summer job? JBLM CYS is hiring Child & Youth Program Assistants for our 10-week summer programming! Take JBLM youth on field trips, participate in outdoor activities and more.
JBLM NAF Human Resources Office is sponsoring a CYS Job Fair! Come to Eagles Pride Golf Course to apply for a position as a Child & Youth Program Assistant (for child development centers, school-age care; before/after-school & camps).

Recruitment schedule of events is as follows:
8-10 a.m.: Applicants submit applications and resumes
9:45 a.m.- 3 p.m.: CYS facility managers conduct initial interviews and NAF HR extends tentative job offers

Interested applicants should bring their high school diploma/GED certificate, Social Security card, birth certificate or passport and four references (names and phone numbers). Applicants must submit a paper application and a résumé by 10 a.m. at the Recruiting Fair to be considered for an on-site interview. Tentative job offers will also be extended at this hiring event, as well as all background checks.

Can't make it to the fair? Apply online here: https://usajobs.gov

QUALIFICATION REQUIREMENTS
• Must be at least 18 years old.
• Able to lift 40 pounds.
• Possess a high school diploma.
• Able to communicate (verbal & written) in English.
• Favorable completion of pre-employment and background checks.

Hourly rates of pay based on qualifications:
CYPA: Entry, $13.38; Skill, $14.74; Target: $16.54

Benefits of working at Joint Base Lewis-McChord/US Government:

• Free on-the-job early childhood education training that can be used for college credit and job advancement.
• Free use of fully equipped sports & fitness centers and pools, including free aerobics and fitness classes.
• Full access to leisure activities (bowling, golf, American Lake recreation, skate parks, beachside picnic areas, on-base dining, special events and festivals).
• Discount tickets to popular attractions across the U.S., movies, sports and more.
• Inexpensive recreational rentals for camping, hiking, snow sports, water fun, parties, sports, RV traveling and other outdoor recreation.
• Access to guided group trips and other outdoor adventures through the outdoor recreation program.
• Access to outdoor recreation areas (skeet & trap range, ATV course, Solo Point recreation area, marina, Shoreline Park and on-base cabin rentals and travel camps.)
• Full use of self-help auto centers, arts & crafts center, recreation centers, used-car buy-and-sell lots, library programs, parent-and-child play centers and more.
• Regular full-time and part-time employees also receive retirement benefits, health benefits, vacation and sick leave.