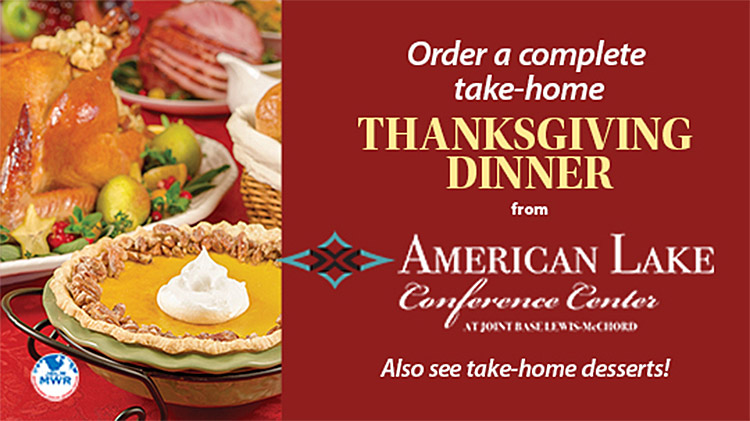 Order a Thanksgiving dinner to go
Note: This event has already passed.
Date: Nov 7 2018, 9 a.m. - Nov 19 2018, 4 p.m.
American Lake Conference Center - 8085 NCO Beach Rd. JBLM-Lewis North Joint Base Lewis-McChord 98433 Google Map
Order a complete Thanksgiving dinner to go from the chefs at American Lake Conference Center!
MEAL 1 (feeds 6–8) $159.95
Roasted turkey (15–20 pounds) or glazed half-ham
Homestyle stuffing
Mashed potatoes
Steamed green beans
Sweet potato casserole
Cranberry sauce and turkey gravy
Pumpkin pie
MEAL 2 (feeds 8–12) $249.95
Includes roasted turkey and glazed half-ham, all sides, vegetables, casseroles and dessert from Meal 1, plus an apple pie.

Take-and-Bake Options
Includes prepared, seasoned and panned uncooked menu items. Cooking and heating instructions are provided, along with a food thermometer.
Take-and-Bake 1: $139.95
Take-and-Bake 2: $229.95
More dishes available at an additional rate.
Additional Dessert options:
Holiday Pies
Fruit Pies, $22: Apple, Cherry, Peach, Peach Melba, Peach & Blueberry, Blackberry
Cream Pies, $22: Coconut, Banana
Holiday Pies, $25: Pecan, Chocolate Bourbon Pecan, French Silk, Toll House, Chocolate Meringue
Pumpkin Pies, $20
Cookies $24 per dozen
Decorated cookies come with the same simple design. If interested in a different design that is more elaborate contact us for a price quote. Decorated Holiday Sugar Cookies, Decorated Gingerbread Cookies, Traditional Sugar Plums, Rum Balls, Bourbon Balls.
Cookie Platters Small $30 Large $60
Assorted Holiday Cookies: Short Bread, Gingerbread, Sugar Cookies, Peppermint Meringues, Thumb Prints, Italian Meringue, Snow Balls, Chocolate Mint Crackles, Linzer Stars, and Chef's choice
Candy Platters Small $30 Large $60
Assorted Holiday Candies: Nougat, Chocolate Bark, Peanut Brittle, Toffee, Caramels, Oreo Truffles, Red Velvet Truffles, Espresso Truffles and Chef's choice
Fudge Platters Small $30 Large $60
Assorted Holiday Fudge Flavors: Chocolate, Rocky Road, Peppermint, White Chocolate, Peanut Butter, and Chef's choice
Cakes 6-inch $35 8-inch $45
Layered Cakes: Eggnog, Sparkling Cranberry White Chocolate, Gingersnap Spice, Foret Noire (French take on the Black Forest Cake), Chocolate Peppermint
Pound Cakes 1 loaf $8
Pumpkin, Eggnog
Bread Pudding 10x17.5 $30 5x9 $15
French Toast Bread Pudding with a Brown Sugar Bourbon Sauce
Place orders through Nov. 19
Pick up orders Nov. 21 noon–6 p.m. and Nov. 22, 8 a.m.–noon
Call or email catering@JBLMmwr.com