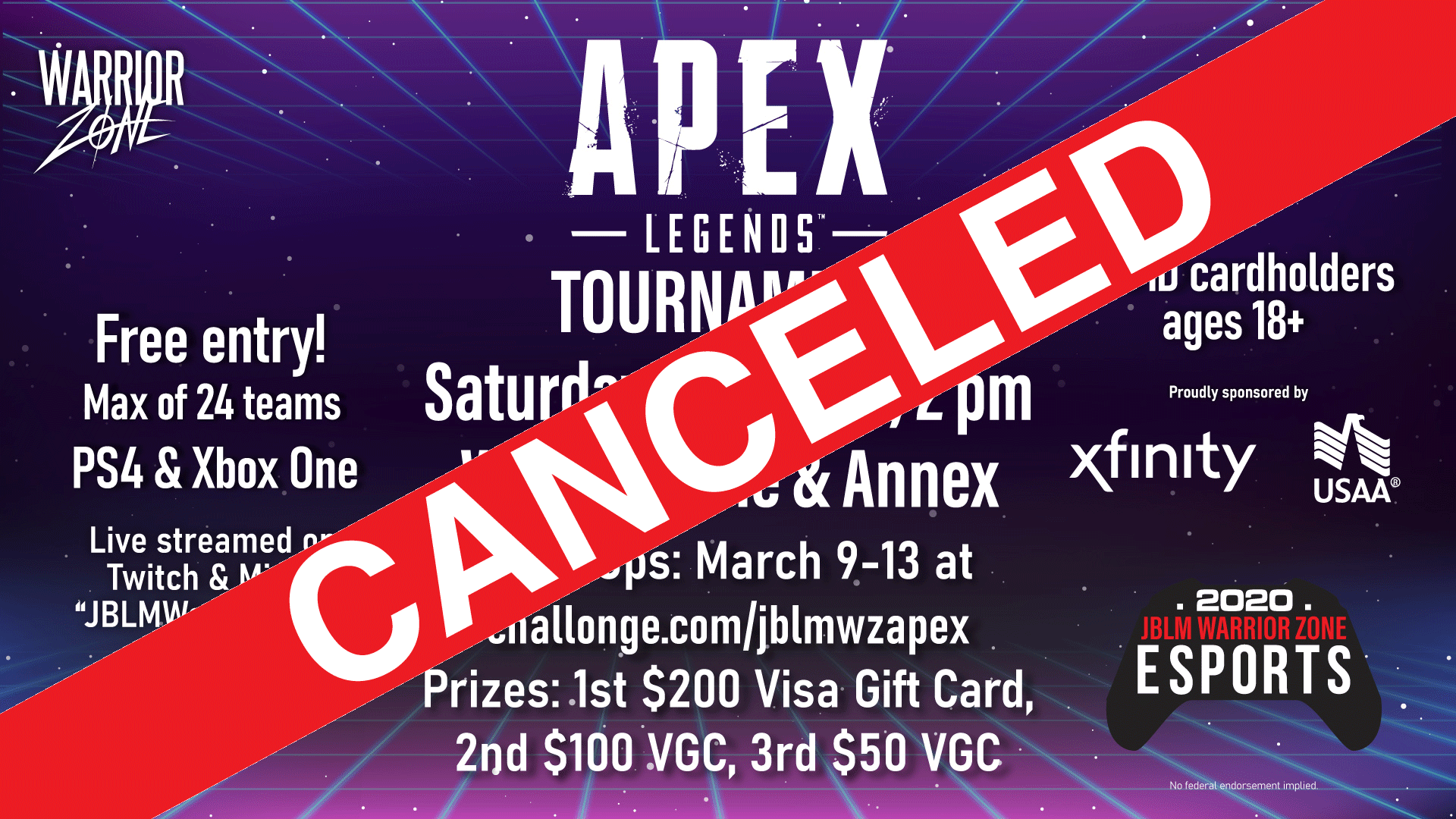 Apex Legends Tournament CANCELED
Note: This event has already passed.
Date: Mar 14 2020, 2 p.m. - 6 p.m.
Enter the Apex Legends Tournament at the Warrior Zone or Warrior Zone Annex (in Sounders Lanes) for your chance to win some Visa gift cards!

1st: $200 VGC, 2nd: $100, 3rd: $50. Free to enter! Open to DOD ID cardholders ages 18 and up.
Register March 9-13 at: challonge.com/jblmwzapex. You must have a full team of three eligible players to sign up and play.
The tournament will be live-streamed at https://www.twitch.tv/jblmwarriorzone and https://mixer.com/JBLMWarriorZone.
For specific rules on how the tournament will be run see below:
Tournament Registration
Sign-ups will begin at 1000 on March 9th and will run through 2300 on March 13th.

Sign-ups are hosted at https://www.challonge.com/jblmwzapex

Each team only needs one person to sign up on the site but you need a full team of eligible players together before you sign up.

Tournament check-in will occur from 1100 to 1300 on March 14th. Your team must all be present to check-in for the tournament.

Eligible players include any DOD ID cardholder ages 18 and up. You will need to show ID when checking in.

The tournament is capped at 24 teams and any team that registers after that will be placed on a waitlist and fill the spot of any team that does not show up for tournament check by 1300 on March 14th.
Tournament format
Teams will be randomly placed into pools of 6 teams

In each pool, teams will play two matches and points will be tallied (see below for point values)

The top three teams by points from each pool will move on to the next round

The top three teams from each of Pool A/B will be put in a pool together as will Pool C/D

The process from round 1 will repeat and the top three teams from each pool will move on to the final round

The final round will have the same format however the top three teams placement will determine overall tournament placement and prizes

After each round, if teams are tied, the team moving on will be determined by a tiebreaker
Points Scoring
1 point for every kill

Placement points
1st - 12 pts
2nd - 9 pts
3rd - 7 pts
4th - 5 pts
5th - 4 pts
Tie Breaker
Wins

Total kills

Most kills in a game

Rock Paper Scissors