Online Equipment Auction
Get great deals on used MWR gym equipment, bikes, furniture and more! Over 160 pieces of gym equipment up for grabs!
Note: This event has already passed.
Oct 1 2023 - Oct 21 2023
Oct 1 2023 - Oct 21 2023
Create an account and bid at equip-bid.com/auction/landing/jblm
In-person equipment viewing: Oct. 11 & 14, 10 a.m.–2 p.m.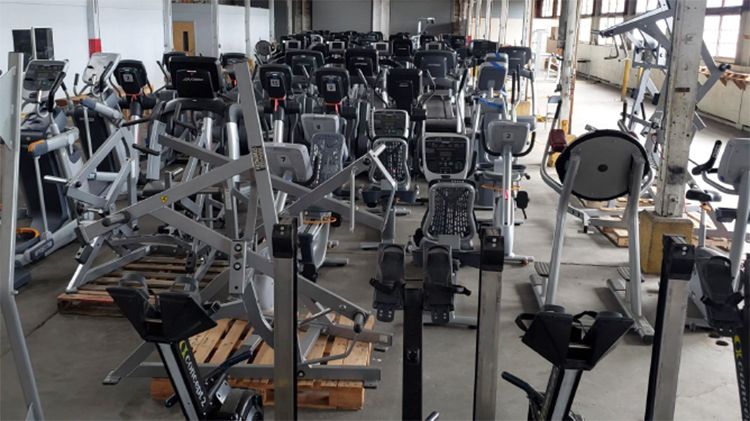 Winning bid pickup: Oct. 23–25, 8 a.m.–4 p.m. Pickup appointments will be made by the auctioneer. Customers are responsible for loading their items.
Info: 913-961-9396
NOTICE: Equip-Bid will add an 18% buyer premium to each invoice.
| | | |
| --- | --- | --- |
| TYPE | ITEM | QUANTITY |
| Cardio | Adaptive Motion Trainer | 3 |
| Cardio | Arc Trainer | 1 |
| Cardio | Bike, Recumbent | 10 |
| Cardio | Bike, Upright | 5 |
| Cardio | Crosstrainer | 31 |
| Cardio | Jacobs Ladder | 2 |
| Cardio | Rower | 7 |
| Cardio | Summit Trainer | 1 |
| Cardio | Treadmill | 49 |
| Cardio | Versa Climber | 1 |
| Strength | Iso-Lateral Leg Curl | 1 |
| Strength | Plate-Loaded Ground Base Combo Decline | 1 |
| Strength | Plate-Loaded Ground Base Combo Incline | 1 |
| Strength | Plate-Loaded Ground Base Combo Twist | 2 |
| Strength | Plate-Loaded Ground Base Squat Lunge | 1 |
| Strength | Pull Down | 1 |
| Strength | Row | 1 |
| Gym Misc | Chalk Bowl Stand | 1 |
| Gym Misc | Exercise Ball | 12 |
| Gym Misc | Glute Ham Bench | 1 |
| Gym Misc | Gym Bench, Various Types | 8 |
| Gym Misc | Hand Forearm Blaster | 1 |
| Gym Misc | Landmine Base Platform | 1 |
| Gym Misc | Medicine Ball | 3 |
| Gym Misc | Olympic Bar | 2 |
| Gym Misc | Plyo Box, Various Sizes | 9 |
| Gym Misc | Rack Dumbbell | 1 |
| Gym Misc | Rack Gym Mat Cart | 1 |
| Gym Misc | Rack Kettlebell 2-Tier | 1 |
| Gym Misc | Rack, Stability Ball | 1 |
| Gym Misc | Seated Leg Raise (Bosu) | 2 |
| | | |
| | | |
| Kitchen | Food Warmer | 2 |
| Kitchen | Refrigerator | 2 |
| Kitchen | Kitchen Hood Fan | 1 |
| Kitchen | SS Worktable (kitchen) | 1 |
| Kitchen | Range Stove | 1 |
| | | |
| Kids | Baby Gate | 4 |
| Kids | Bins Stackable | 3 |
| Kids | Bookshelf | 7 |
| Kids | Cabinet Kids | 2 |
| Kids | Chair Kids | 57 |
| Kids | Cribs | 4 |
| Kids | Cubby Storage | 10 |
| Kids | Desk | 1 |
| Kids | Drama Play Closet | 2 |
| Kids | Foosball Table | 1 |
| Kids | Play Slide | 3 |
| Kids | Pretend Play Kitchen | 12 |
| Kids | Sand/ Water Table | 5 |
| Kids | Science Activity Table | 1 |
| Kids | Toy Riding Scooter | 6 |
| Kids | Wagon Bike Trailer | 1 |
| Kids | Wooden Building Blocks | 2 |
| Kids | Woodwork Table | 3 |
| | | |
| Misc | Bicycle Helmet | Box |
| Misc | Bicycles | 12 |
| Misc | Computers | 4 |
| Misc | Drill Press | 1 |
| Misc | DVD/ CD Cabinet | 1 |
| Misc | Patio Chair and Table set | 4 |
| Misc | Play Disc Golf | 16 |
| Misc | Pool Chair Lounger | 22 |
| Misc | Server Rack Enclosures | 3 |
| Misc | Television | 5 |
| Misc | Various Board Games | Box |
| Misc | Various Sports: Frisbee, Flag Football, Baseball Bats, etc | Box |
| Misc | Wired Mail Carts | 7 |
| | | |
| Boats | Canoe | 3 |
| Misc | Jon Boat | 2 |
| Misc | Boat w/ Trailer | 1 |
| Misc | Boat | 1 |