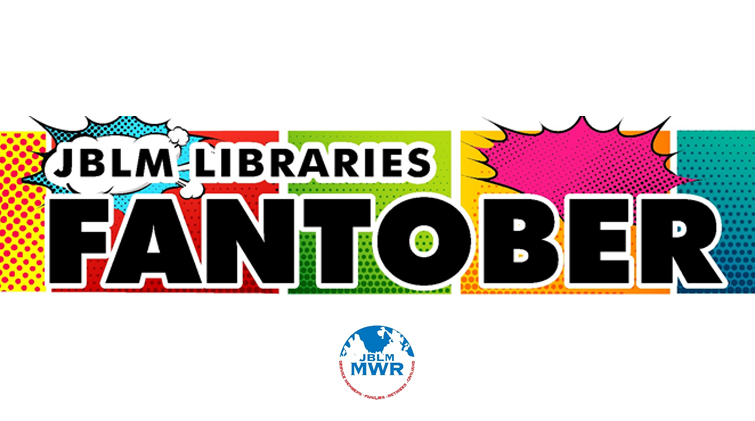 Join JBLM libraries for FANtober events!
Note: This event has already passed.
Date: Oct 1 2019 - Oct 31 2019
Dress as your favorite pop culture character when you attend any of these events.
Attend McChord Library's Thursday storytimes at 11 a.m. or 3 p.m. and immerse yourself in interactive fun with cool crafts:
-Thomas the tank engine stars Oct. 3.
-Oct. 10, it's off to Star Wars.
-Oct. 17, get friendly with Disney characters.
-Superheroes are featured Oct. 24.
Also come to McChord Library for these special Friday movies starting at 6 p.m. (with free popcorn!) to enjoy the "fandoms" you know and love:
-Oct. 4 features "Aladdin."
-Oct. 11 is "Star Wars: A New Hope."
-Oct. 18, we'll sing along with the animated classic "The Lion King."
Calling all Padawans and Jedi Knights! The Empire's invading McChord Library Saturday, Oct. 12, 1-2:30 p.m. Take part in a themed costume parade, crafts, storytime, special guest appearances, food, fun and more!
Book Patch Library is offering special Friday events for Fantober:
-Pokémon Day Oct. 4 — watch Pokémon movies (free popcorn!), go on a scavenger hunt and trade or show off your cards.
-Lego Day Oct. 11 — enjoy Lego movies, books and more.
-Mario Day Oct. 18 — make crafts, see a show and play Mario video games.
-Disney Princess Day Oct. 25 — watch a princess movie and get a glitter tattoo!
Grandstaff Library is putting on these events:
-Drop in Saturday, Oct. 19, 10 a.m.-4 p.m. for a Super Smash Bros. tournament! Try to win a first-, second- or third-place prize, plus enter to win a door prize! No registration is needed.
-Adults can join us Oct. 21, 5:30–7 p.m. for a special screening of "Carrie" by Stephen King.