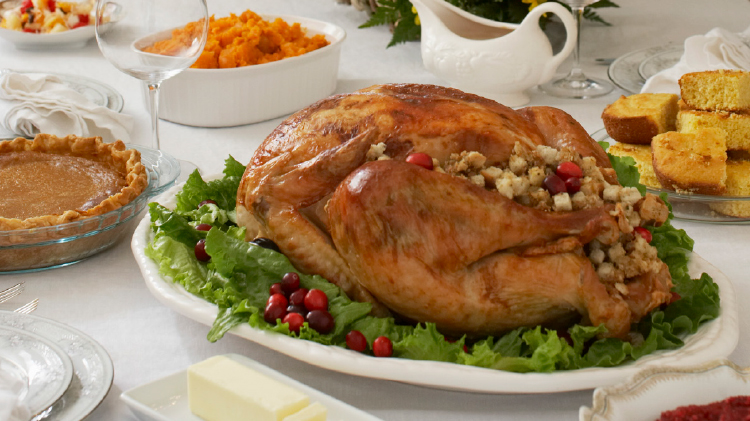 Order a Thanksgiving dinner to go!
Note: This event has already passed.
Date: Nov 1 2019 - Nov 25 2019
American Lake Conference Center - 8085 NCO Beach Rd. JBLM-Lewis North Joint Base Lewis-McChord 98433 Google Map
MEAL 1 (feeds 6–8) $164.95
Roasted turkey (15–20 pounds) or glazed half-ham
Homestyle stuffing
Mashed potatoes
Green bean casserole
Sweet potato casserole
Cranberry sauce and turkey gravy
Pumpkin pie

MEAL 2 (feeds 8–12) $259.95
Includes roasted turkey and glazed half-ham, all sides, vegetables, casseroles and dessert from Meal 1, plus an apple pie.
Place orders through Nov. 25. Pick up orders Nov. 27 noon-6 p.m. and Nov. 28, 8 a.m.-noon.
Order holiday desserts for your parties, home or office!
Place orders at least five business days ahead.
Holiday Pies
Fruit Pies, $22: Apple, Cherry, Peach, Peach Melba, Peach & Blueberry, Blackberry
Cream Pies, $22: Coconut, Banana
Holiday Pies, $25: Pecan, Chocolate Bourbon Pecan, French Silk, Toll House, Chocolate Meringue
Pumpkin Pies, $20

Cookies $24 per dozen
Decorated cookies come with the same simple design. If you're interested in a different, more elaborate design, contact us for a price quote.
Decorated holiday Sugar Cookies, decorated Gingerbread Cookies, traditional Sugar Plums, Rum Balls or Bourbon Balls.

Cookie Platters Small $30 Large $60
Our Pastry chef's themed holiday Cookies

Cakes 6-inch $35 8-inch $45
Layered Cakes: Eggnog, Sparkling Cranberry White Chocolate, Gingersnap Spice, Foret Noire (French take on the Black Forest Cake), Chocolate Peppermint

Pound Cakes 1 loaf $12
Pumpkin, Eggnog

Bread Pudding 10x17.5 $30 5x9 $15
French Toast Bread Pudding with a Brown Sugar Bourbon Sauce

Call 253-966-4998/3987 or email catering@jblmmwr.com