Armed Forces Day
Open to the public!
Note: This event has already passed.
May 18 2019, 11 am - 7 pm
May 18 2019, 11 am - 7 pm
Take a glimpse into military history with Joint Base Lewis-McChord!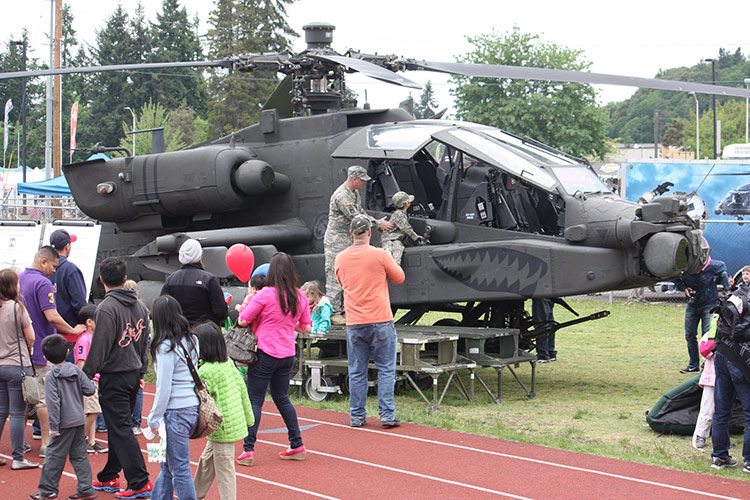 Enjoy activities for all ages at JBLM's Armed Forces Day open to the public from 11 a.m. to 7 p.m.
Admission, parking, military displays, historical reenactments, entertainment and athletic events are free. Carnival rides, food and other vendor products are available for purchase.
Guests without an installation access pass should enter JBLM-Lewis Main via the DuPont Gate. Due to security checks expect some delays when entering the base. Take Interstate 5 to Exit 119. Northbound travelers should stay to the right as they exit the highway, southbound travelers should turn left as they exit the off-ramp and continue east across the overpass to enter the installation.
• All vehicles entering the installation are subject to inspection.
• Drivers must be able to present a valid license, vehicle registration and proof of insurance upon request.
• Passengers age 16 and older must present a government-issued photo ID.
Civilian vehicles that are selected for inspection will be directed to the inspection area. Vehicles cleared for entry to the base will be directed to a parking area for shuttle bus rides to and from the event site.
Visitors may not bring weapons, alcohol, illegal drugs, fireworks, or pets onto the base. Marijuana is illegal on JBLM. Military ID-card holders may not bring any of these items to the event (medical alert and medical assistance animals are permitted).
Valid DOD ID cardholders can use the other gates.
What to see at Armed Forces Day
Explore static military aircraft and vehicle displays, including infantry carrying vehicles, weapons displays and explosive ordnance disposal equipment.
Meet with historians from the Lewis Army Museum.
See living history encampments representing military life in the past, including Army Group 1944, Friends of Kilroy, Northwest Historians, Fort Steilacoom, Tacoma Scots, WA Civil War Association, 4th U.S. Infantry Regiment Company C and more.
Witness mock battles and demonstrations and ask questions to learn more about bygone eras of military field life.
Look for roving entertainers throughout the day. "Blitz," the Seahawks' mascot, is scheduled to make an appearance for photo ops from 1 to 4 p.m. Payne Fifield will amaze you with his Hogwarts wizard magic trick show. See Bill Robison's strolling puppet show, laugh at the antics of physical comic and juggler Henrik Bothe, get wowed by the strolling magic of Jeff Evans, receive free balloon creations from friendly balloon twisters Teri Rogers and Megan McKenna, and pose for caricaturists Vincent Yee and Patrick Ward, who will capture your personality with a quick-draw portrait. You won't miss stilt walker Leapin' Louie, entertaining you from the heights!
JBLM's own America's First Corps Band will entertain you on stage with popular tunes throughout the day.
If you enjoy watching sports, be sure to catch the friendly competition at Cowan Stadium when the Army vs. Navy rugby match begins. (The Army team has taken possession of the coveted match trophy with 17 wins in the past 20 years of competition!) The teams will line up for the playing of the national anthem at 10:55 a.m.; the match starts at noon.
Map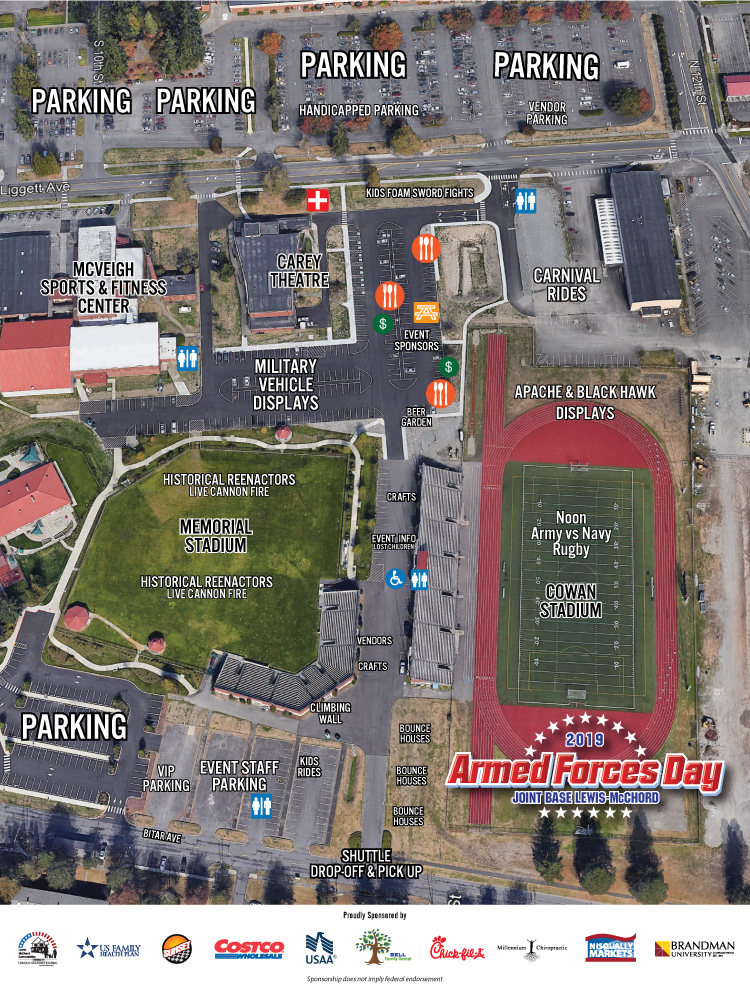 Schedule